If you are like me, you also believe that beer is much more than the tantalizing liquid in our hand.  Through my studies of brewing, judging, food pairing, and the history of beer, I've discovered there's a world of culture, wisdom and knowledge in every glass and I intend to get to the bottom of each and every one.
I've also been frustrated by the lack of basic beer knowledge in many restaurants (even at exceptional breweries).  Good Beer Matters is, therefore, a resource for servers, for bartenders, for brewers at home and pro, for the soon to be BJCP beer judges, for the Cicerone's in training, and for the beer enthusiasts who continue to challenge the status quo.
I am like you, someone who takes his beer seriously and that is why I created Good Beer Matters.  I ask you to join me in the stories that define our culture from the viewpoint of a great beer.  I ask you to join me in the seeking of greater knowledge so that the beer in our hand will become so much more than just the beer in our hand.
Thank you for listening.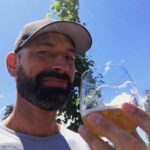 Contact me through the socials or via email at Jeremy@GoodBeerMatters.net
Cheers.